Prof. Steivan Defilla
Tianjin University, China
Steivan Defilla, Swiss national, visiting Professor of school of architecture, Tianjin University; President Assistant of APEC Sustainable Energy Center since 2018. Lead author of the "APEC Sustainable Urban Development Report - From Models to Results". He is the former (2010 - 2016) Director of the Energy Charter, an intergovernmental energy organization with 50 Member states headquartered in Brussels. He managed the expansion of the Energy Charter to include 30 new observer states, among them China. He also supervised or co-authored 26 studies and analyses and 2 books on energy-related subjects. As Senior Energy Advisor to the Swiss Economics Minister (1999 - 2010) he contributed to the reform of the Swiss electricity sector, the Swiss infrastructure strategy and the Swiss foreign energy policy. He wrote a book prefaced by the Swiss Energy Minister and co-authored 13 articles in English, German, French and Russian languages. He also attended Governing Board meetings of the IEA and co-chaired multilateral negotiations at the Energy Charter. Steivan holds a Master degree in Statistics and a Bachelor degree in Economics from the University of Neuchâtel, Switzerland. He also holds a Postgraduate degree on Energy from the Federal Polytechnic Institute Lausanne. Steivan is winner of a United World Colleges scholarship and is fluent in eight languages.

Prof. Zainal Kadir
Faculty of Engineering, Universiti Putra Malaysia,Malaysia
Brief introduction:
Prof Zainal received his B.Eng. degree in Electrical and Electronic Engineering from Universiti Putra Malaysia (UPM) and Ph.D. degree in High Voltage Engineering from the University of Manchester, U.K. Currently, he is a Professor at the Faculty of Engineering, UPM.
Prof Zainal is a Fellow of Academy of Sciences Malaysia (FASc) and Fellow of the IET (FIET). He is also an IEEE Power & Energy Society (PES) Distinguished Lecturer in the field of lightning and high voltage engineering. To date he has authored and co-authored over 400 journals and conference papers. He has supervised 33 PhD and 42 MSc students and currently 30 PhD and 4 MSc are on their way. His research interests include high voltage engineering, lightning protection, electromagnetic compatibility, power system transients and renewable energy.
Prof Zainal is a Professional Engineer (PEPC), a Chartered Engineer (CEng) and a Professional Technologist (PTech). Currently, he is the Chairman of the National Mirror Committee of IEC TC 81 (Lightning Protection) and Local Convener of MNC-CIGRE C4 on System Technical Performance. He is also an Advisory Board Member of the National Lightning Safety Institute (NLSI) USA, Steering Committee of Asia Pacific Lightning and Research Advisor for the African Centre for Lightning and Electromagnetic (ACLE).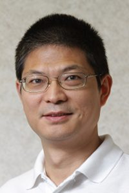 Prof. Chris Mi
San Diego State University,USA
Brief introduction:
Dr. Mi is the Professor and Chair of the Department of Electrical and Computer Engineering at San Diego State University. He is a Fellow of IEEE (Institute of Electrical and Electronics Engineers) and SAE (Society of Automotive Engineers). He is also the Director of the US Department of Energy-funded Graduate Automotive Technology Education (GATE) Center for Electric Drive Transportation at SDSU. He was previously a faculty member at the University of Michigan-Dearborn from 2001 to 2015, and an Electrical Engineer with General Electric from 2000 to 2001. He also served as the CTO of 1Power Solutions from 2008 to 2011. Dr. Mi received his Ph. D from the University of Toronto, Canada, in 2001.
Dr. Mi has won numerous awards, including the "Distinguished Teaching Award" and "Distinguished Research Award" from the University of Michigan-Dearborn, IEEE Region 4 "Outstanding Engineer Award," IEEE Southeastern Michigan Section "Outstanding Professional Award," and SAE "Environmental Excellence in Transportation (E2T) Award." He is the recipient of three Best Paper Awards from IEEE Transactions on Power Electronics and the 2017 ECCE Student Demonstration Award. In 2019, he received the Inaugural IEEE Power Electronics Emerging Technology Award.
Dr. Mi has received over $5.8 million in research funding since joining SDSU in 2015. He has published five books, 204 journal papers, 126 conference papers, and 25 issued and pending patents. He served as Editor-in-Chief, Area Editor, Guest Editor, and Associate Editor of multiple IEEE Transactions and international journals, as well as the General Chair of over ten IEEE international conferences.
Prof. Pan Hui
University of Macau,USA

Brief introduction: Dr. Hui Pan is a professor in the Institute of Applied Physics and Materials Engineering, and the founding head of Department of Physics and Chemistry in the Faculty of Science and Technology at the University of Macau. He got his PhD degree in Physics from the National University of Singapore in 2006. From 2006 to 2013, he worked at National University of Singapore as a Research Fellow, Oak Ridge National Laboratory (USA) as a Postdoctoral Fellow, and Institute of High Performance Computing (Singapore) as a Senior Scientist, respectively. He joined the University of Macau as an assistant professor in 2013. In his research, a combined computational and experimental method is used to design and fabricate novel nanomaterials for applications in energy conversion and storage (such as electro-/photo-catalysis, water splitting, N2/CO2 reduction, supercapacitors, hydrogen storage, solar cell, and fuel cells), electronic devices, spintronics, and quantum devices. He has published more than 240 papers in international peer-reviewed journals. The total citation is ~ 10000. Additionally, he is the author of 5 book chapters and the inventor of 4 USA and 6 China patents. His present h-index is 50.